West Nile Virus
West Nile Virus (W.N.V.) is a potentially serious illness, and unfortunately there is no specific treatment for W.N.V. infection to date. In 2006, there were 278 reported cases of Human Disease from West Nile Virus in the State of California (as of 07/23/07). Since 2002 in California alone, there have been 1,941 reported cases of West Nile Virus. Since 1999, 23,975 cases of West Nile Virus have been reported just in the U.S.A alone, with a combined total of 785 Deaths. It has be proven that the number of WNV human cases peak in the month of June, July, August and September, and the epidemic may also continue well into the Fall season.
Since there is no specific treatment to treat WNV infection, the best way to avoid it is by prevention. One of  CDC's recommendations to minimize your risk of getting infected with WNV infection is to Mosquito-Proof Your Home. Quote from a document from CDC: "Some mosquitoes like to come indoors. Keep them outside by having well-fitting screens on both windows and doors. Offer to help neighbors whose screens might be in bad shape."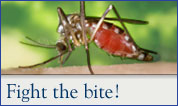 Complete Screens understands how valuable your family members are to you. We are here to help you protect your family by minimizing the risk of getting West Nile Virus infection, by adding Stowaway Retractable Screens to your doors and windows!  Call us now for immediate help in minimizing the risk of getting infected by West Nile Virus.
Retractable screens offer you a way to retain the beauty of your home while offering a safe door. The Stowaway by Soett Retractable Screens are unique in that they offer the first screen door that hides away so you can see clearly through your doors/windows while taking the safety of your family into account.